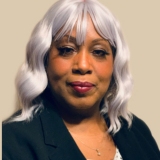 Wishing Dr. LaFondria Brown  a Happy Birthday !
Congratulations To You, Cynthia Edwards In Completing Your MA In Christian Counseling. Let's Move On In Our Doctor In Christian Counseling Program

Please welcome Kendall Thomas who has been accepted into ICM's Bachelor of Arts in Ministry program.

KENDALL THOMAS, So Glad To Have You In Our ICM Family: Great Things Are Coming Soon! Stay The Course!
Please welcome Cynthia Edwards who has been accepted into ICM's Master of Arts in Christian Counseling program.